If you own a house, garage, shed, or commercial building in the Scranton/Wilkes-Barre, PA area, it is likely that your roof will need to be replaced at some point in time.
A little-known fact about roofing companies is that they are very selective about the roofs they will demolish. For example, an old and deteriorating flat roof will need to be fully demolished before a new one can be installed. Most roofing companies are unable to handle a demolition project such as this, and the experts such as A+ Enterprises are called in to assist.
Roofing Tear-Off
The first part of roof demolition is establishing where the damage is, and the best way to disassemble the roof. One advantage to hiring a demolition company to demolish your old roof is they have heavy equipment to assist in getting the job done quicker and more efficient compared to a dedicated roofing company.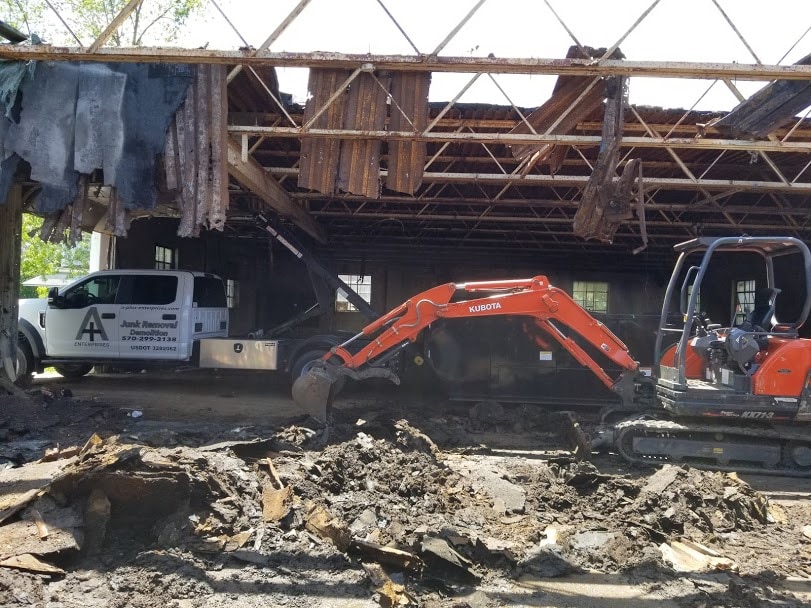 Once you begin demolishing the roof structure, it is rinse and repeat! One thing to keep in mind during this process is to be on the lookout for any existing damage to the roof trusses. They are the backbone to your roof, and it is important to keep them in as good of shape as possible. In this scenario, the trusses were so old that they did not have cross bracing. This means they were able to flex & bend very easily so extra precautions had to be made.
Roofing Debris Removal
One of the biggest mistakes you can make when doing a roof demolition project is underestimating the weight of old roofing. Typically, roofing in a building such as the one in this example should weigh roughly 13-20 tons depending on construction. When we removed all the old roofing it weighed over 40 tons! Because of the variables in construction of old roofing, it is important to always plan for the worst when budgeting for a project such as this.
Roof Demolition Company
After doing all the steps above, your roof demolition project should now be complete! Demolishing a roof is not an easy task, and is often-times more expensive and complicated than originally anticipated. If you have an old roof you need demolished and want to hire a company that will get it done right, give A+ Enterprises Demolition Services a call! Our crews are fully licensed & insured and possess the knowledge and experience to get your job done right the first time.
Call us today! 570-299-3138
---
---
EXTREMELY PLEASANT AND PROFESSIONAL! Gave them a call to remove some old furniture and assorted boxes of junk. They said the had a crew in my area the next morning and could be here at 9am. Arrived right at 9 on the dot and got straight to work. They battled through all my cobwebs and work quick and efficiently. No trouble or damage from moving some big items in narrow areas. The price they quoted was great value for all the work they did. I have already and will continue to HIGHLY recommend them.

Michael Machion


8/03/2019

Called for estimate for tv removal, good price came that morning I called, Sal is great, will use again.

Debbie Rumensky


3/15/2020

Requested a free estimate and they called me back in seconds! They were much more affordable than other big name companies in the area and provided service the day I requested. The movers were friendly and awesome! They moved out my awful bulky sofa with no issues! Absolutely would recommend to anyone! They are efficient and completely organized!

Jennifer Kobeski


4/06/2019

Called A + enterprise junk removal to have a few items removed from my apartment. Sal and his team were GREAT!!! Fair price and fast service plan on using them again.

John Steve


3/20/2019

They cleaned out my grandmas house today in under 6 hours. And we had a lot of stuff! Friendly guys and great work!! Definitely recommend.

Grace Baker


7/25/2020

Excellent communication starting from the first call through our entire demolition project. Answered the phone and responded to emails and texts promptly. Got the job done quickly and efficiently. Highly recommend A+ Enterprises.

Michelle Pennington


6/10/2020

Sal and his team are amazing! They came and did a clean out the same day I called. They are honest, flexible, quick, and professional. They are worth every penny they charge. I wouldn't consider calling anyone else.Ryan K.

R K


3/08/2019

Absolutely amazing! Highly recommended! I recently moved to Pennsylvania and purchased a fixer upper in Luzern County. I had a large pile of debris from the house that I needed to get rid of. I called A+ Junk Removal and spoke with Sal. He was extremely professional and very personable. He was able to work with my schedule which was greatly appreciated. Sal also contacted me through text to remind me of my scheduled appointment. Joe and Andrew showed up on time to give me an estimate for my junk pile. They gave me a great price and got right to work. Both Joe and Andrew were very polite and extremely professional. Very friendly as well. They did an amazing job! I couldn't have asked for a better crew to come and do this job for me. I am extremely appreciative for Sal, Joe and Andrew. I highly recommend this company and will definitely use them again on the future. Thank you so much A+ Enterprises!

Rebecca DeKonty


3/26/2020

Hired A Plus Enterprises last year to remove some old pool equipment, old yard equipment, and old furniture from my house. There timing, professionalism, and reasonable pricing was overwhelmingly amazing. Great job and look forward to hiring you again!

Ryan Croughn


5/04/2020

I can't say enough about Sal. He was very patient, knowledgeable, and went out of his way to ensure my company was taken care of. I absolutely recommend anyone to use this company. They get in and out very quickly and offer a great price. They also stick to their word which is very rare now-a-days!

Mark Van Dyke


10/25/2019

Sal really helped us out. We needed some junk removed right away and he got there within a couple of hours, was very professional and polite and did not charge an arm and a leg. He has a customer for life in us now!

Margaret Esopi


12/24/2018

Very nice to deal with. Showed up promptly. Worked throughout the entire day. Did a fabulous job! Would highly recommend.

Sandra Hill


6/11/2020

Fantastic customer service. Sal was on time, very responsive to messages and professional. The price for the dumpster was very reasonable also. I have had issues with other junk removal companies in the past and wish I had found them sooner. I will definitely use them again in the future.

Erin G


10/17/2019

Sal and his team were fantastic to work with. They were professional and arrived on time. Our scope of work was larger than originally estimated and they immediately dispatched an extra truck to finish up our job in record time. I would highly recommend them for all your removal needs.

Bryan McFarland


12/05/2019

A+ is a first-rate, highly professional outfit. They offered courteous, efficient, same-day service at a more-than-fair price. I recommend them with great confidence.

Joel Shuman


7/08/2019
---