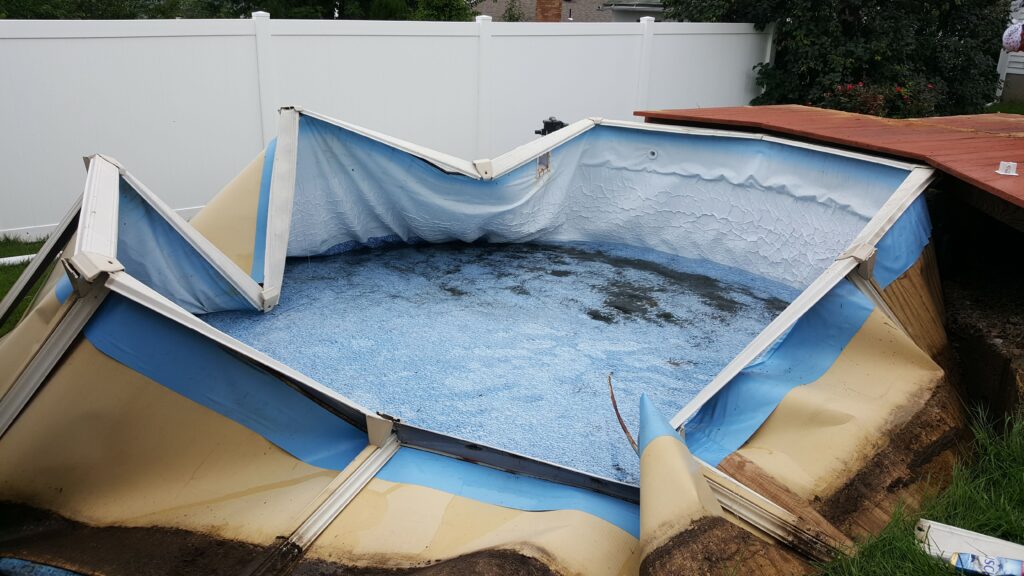 If you look in your back yard, you may see a pool that has reached the end of its life. Many above-ground pools have a lifespan of 20 years, and after that can become problematic. Pool removal may be the only option to save a pool that has been neglected or is failing.
If you realize that your pool is ready to get removed, continue reading to find out how simple it is to demolish a pool.
Get Pumping
The first step in demolishing an above ground pool is to pump it out! Typically, the easiest way to do this is to rent a trash pump from a rental company.
We recommend renting a 3″ trash pump, as smaller pumps take exponentially longer to pump out a pool. Typically, this rental cost is $50 for the day. It is important to note where you are draining the pool water to, as pools hold thousands of gallons of water and can easily flood a street or neighbor's yard!
Remember that when operating a trash pump that you must prime the pump with water in order to get it pumping. Once it starts pumping, stand back and let the water flow!
Begin Cutting
Now that the pool is empty, the next step is to begin cutting the old pool up. The best tool to use is a reciprocating saw, or "Sawzall".
Purchase a pack of good-quality high tooth count metal cutting blades and safety glasses to make sure you have the right tools for the job. Cut the pool into 6 or 7 sections. This way they are small and light enough to load into a truck when finished.
Once the pool is cut up, the next step is to remove the liner. Pool liners can get very heavy, and cannot be taken out with household trash. Typically, you will need to rent a dumpster or hire a junk removal company to haul the liner and other debris away.
Cleanup
Once the pool has been drained and cut up, the next part is the most important – cleaning up! The metal from the pool frame & sides can be taken to a scrap yard and you can expect to receive roughly $50 in scrap value for the metal.
As stated previously, the liner will need to be hauled to a landfill yourself, or placed in a dumpster or hauled away by a junk removal service.
Once the area is clear, there may be a low spot in area where the pool sat. Typically, 5-10 tons of topsoil will fill in the area so you can plant grass over it.
Hire the Professionals
Does this sound like a lot of work for you? For a homeowner to complete this project, it will take a full day of work for 2 people, and incur approximately $250-500 in expenses depending on certain factors.
Hiring a company such as A+ Enterprises Demolition Service may be a better option, as most of our above ground pool demolition & removal projects are under $1,000 and we do all the work and removing the items for you! We serve the Scranton/Wilkes-Barre area and all of Northeast PA.
---
Request a FREE Pool Removal Estimate
Call us today! 484-658-3333
---
Absolutely amazing! Highly recommended! I recently moved to Pennsylvania and purchased a fixer upper in Luzern County. I had a large pile of debris from the house that I needed to get rid of. I called A+ Junk Removal and spoke with Sal. He was extremely professional and very personable. He was able to work with my schedule which was greatly appreciated. Sal also contacted me through text to remind me of my scheduled appointment. Joe and Andrew showed up on time to give me an estimate for my junk pile. They gave me a great price and got right to work. Both Joe and Andrew were very polite and extremely professional. Very friendly as well. They did an amazing job! I couldn't have asked for a better crew to come and do this job for me. I am extremely appreciative for Sal, Joe and Andrew. I highly recommend this company and will definitely use them again on the future. Thank you so much A+ Enterprises!

Rebecca DeKonty


3/26/2020

The 3 man crew did a fantastic job in clearing out and disposing of several large and small items that still remained after a 2 day estate sale. Items removed included beds and mattresses, 3 couches, bedroom chest of drawers, old refrigerator and electric stove, computer desk, old and very heavy television, several tools plus much more.Very courteous workers and owner was great to work with. Highly recommend and you won't be disappointed.

Rich Winslow


8/21/2019

These guys are awesome! They came here when promised, were really nice and friendly, and they did what they were supposed to do in a timely fashion. The price quoted was changed because I had more "stuff" to get rid of. However, they quoted the difference before getting the rest of the things out and we agreed. I will certainly call them next time. Thanks, A+!

TJ Belt


3/26/2019

Very professional. Very polite. Efficient. I will use this company again. Prices were reasonable.

Mary Jane Meaney


2/23/2019

Three men came and took everything I wanted to get rid of. They were professional and very nice. I couldn't have asked for a better experience. Thank you. I'll be calling again.

Elaine Hungarter


6/23/2020

They cleaned out my grandmas house today in under 6 hours. And we had a lot of stuff! Friendly guys and great work!! Definitely recommend.

Grace Baker


7/25/2020

Incredibly professional and responsive to all of my questions. Each time I called I spoke directly with sal. No need to leave a voicemail and wait for a call back. Sal, Shawn and Mackenzie have been amazing to work with. I would highly recommend this company to anyone looking for dumpster rentals.

Jennifer Bitters


5/17/2020

A+ Enterprise . . .gave an accurate estimate. . .did a PROFESSIONAL job. . .the team was "on-time" completed the work on schedule. . . very easy to work with. . .Highly Recommend!

Wes Coates


1/22/2020

Great service , They came the same day I called. Very friendly and efficient. Great price for removal. Highly recommend this company. Very professional and A plus rating. Arrived on time and ready to work.

Tina Stella


8/05/2019

I never leave reviews but Sal (I think his name is) was great. Both times we used them they showed up the next day on time and did a fast and efficient job. Personable and reliable. Highly recommend.

Carissa Dewey


5/05/2019

A+ is a first-rate, highly professional outfit. They offered courteous, efficient, same-day service at a more-than-fair price. I recommend them with great confidence.

Joel Shuman


7/08/2019

Requested a free estimate and they called me back in seconds! They were much more affordable than other big name companies in the area and provided service the day I requested. The movers were friendly and awesome! They moved out my awful bulky sofa with no issues! Absolutely would recommend to anyone! They are efficient and completely organized!

Jennifer Kobeski


4/06/2019

This company is not just professionals at their work but also very kid and hardworking. During the scheduling the staff was very helpful and were able to work with my last minute call with no issues. I received a reminder of my appointment witch was very helpful. The team that arrived to the job took care of business before I knew it it was all done. Very respectful and hard working team. Will definitely recommend anyone and will definitely use this company on my next project.

Edisson Fajardo


2/16/2020

Professional and courteous. We have sought the services of this company twice now. Each time they were more than accommodating with very reasonable prices. A+ service.

Charles Zaffuto


5/02/2020

Excellent communication starting from the first call through our entire demolition project. Answered the phone and responded to emails and texts promptly. Got the job done quickly and efficiently. Highly recommend A+ Enterprises.

Michelle Pennington


6/10/2020
---
Pool Removal FAQs
What does pool removal cost?
The average cost to pump out & demolish an above-ground pool is roughly $900. That price includes all labor, demolition, cleanup, and disposal fees.
Is there scrap value in an old pool?
The average pool is worth between $50 and $100 in scrap value depending on the weight.
How do I drain the water out of a pool?
You can drain the water out of a pool by renting a 3 inch trash pump and pumping the pool out. Do not pump out in-ground pools more than halfway, as damage may occur.
What do you fill in pools with?
Depending on the customer's needs and budget, we fill in pools with either raw fill dirt or structural fill (modified crusher run). The price varies depending on the type of material used.
---