House Cleanout Services | Scranton/Wilkes-Barre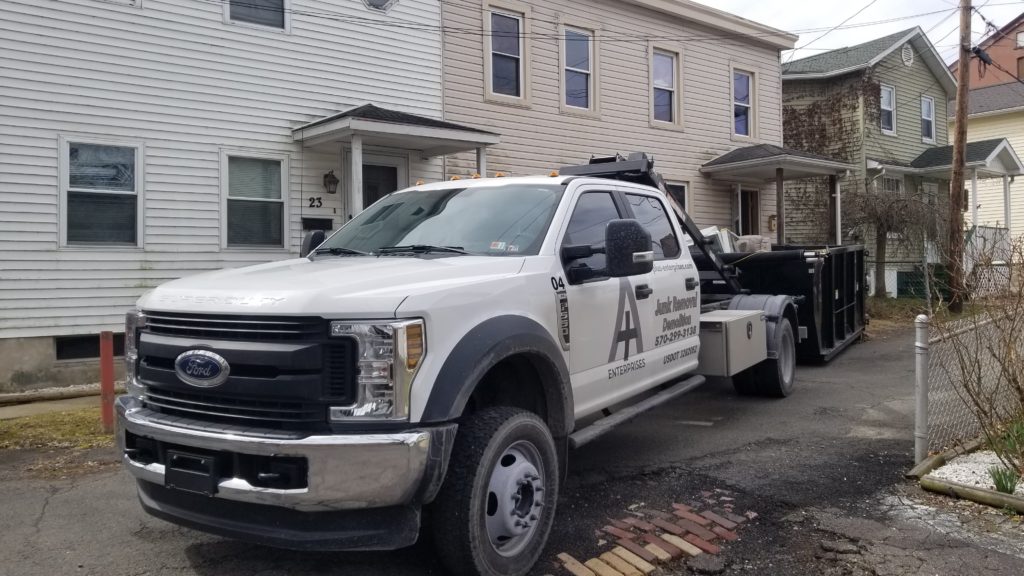 ---
Request A Free Cleanout Estimate
Call: 484-658-3333
Providing house & estate cleanup services to Northeast Pennsylvania
A+ Enterprises Junk Removal provides house cleanout services to the entire Scranton/Wilkes-Barre area. Below are just some of the cleanup services we provide to homeowners, families, estates, businesses, and more.
Basement Cleanout
Attic Cleanout
Garage Cleanout
Apartment Cleanout
Entire Home Cleanout
Hoarder Cleanup
Estate Sale Cleanup
Yard Cleanup
Estate Cleanout
Office Cleanout
Warehouse Cleanout
And More!
---
House Cleanout Services in Scranton & Wilkes-Barre
Selling, moving out of, or simply decluttering a whole house in Scranton/Wilkes-Barre can be a messy process. To many people, the thought of cleaning out a house themselves can become overwhelming.
Between renting dumpsters and scheduling time off work, the process can consume a lot of time and resources. Fear not, there are services that specialize in cleaning out houses regardless of condition.
During the difficult and sensitive time when one has to proceed with a house or estate cleanout, you want a company that will be punctual, patient, and respectful while treating you with care. In addition, we will donate as many items as we can to a charity or Goodwill when possible.
Local House Cleanout Services Scranton/Wilkes-Barre
Not all house and estate cleanout services are the same. Anybody with a pickup truck and helpers can "clean out a house". There are also specialized cleanout services with large trucks and trained crews.
An inexperienced cleanout team puts your valuables and property at risk of damage, and takes longer to complete the job. The skilled, experienced team at A+ Enterprises Junk Removal understands the value of taking care of your belongings & property. It is important to understand what to expect from a cleanout service before making a hiring decision.
Estate Cleanout Services Near Me
The only thing a customer needs to do when hiring a cleanout service is determine what will stay and what will be discarded. Our Scranton/Wilkes-Barre cleanout company can assist you with organizing items to be saved and discarded. We can even haul items to local donation centers such as The Salvation Army for you!
We are the only estate cleanout service in the Scranton/Wilkes-Barre area that can clean out houses and estates in less than one day. A+ Enterprises owns a large fleet of trucks and has crews of employees ready to help.
We specialize in all sorts of junk removal & hauling including:
---
---
The Problem With Free Estate Cleanout Services
Whether a loved one passed away or you are simply downsizing, an estate clean out company can make your life easier. There are some cleanout services that offer to remove junk items from your home at a reduced cost or even free!
These free estate clean out services will try to sell many of your items from your own home. These companies may be time consuming and unsettling for many people. The reason for this is they will scavenge through your home hoping to find items. That family heirloom that you were hoping they would find and return is now their payday.
If you are in no rush to empty your home and are on a tight budget, a free cleanout service may be your best bet. With that said, it is important to make sure that they are licensed, insured, and follow proper disposal guidelines.
Time-Saving Estate Cleanout Service
A+ Enterprises operates a fleet of large dumpster trucks and box trucks to clean out houses as quickly as possible. In addition, we have a crew comprised of respectful, background checked junk haulers. We can handle your entire estate liquidation project – start to finish.
Even if the only day you have available is a Sunday, we can 100% guarantee you that we can handle your cleanout. Because of the amount of trucks we have, we do not need to make multiple trips to the recycling centers. This allows us to work when other house cleanout companies simply cannot.
House & Estate Cleanout Pricing
Many people wonder how much does an estate cleanout cost? There is no set rate to clean out a house due to amount of variables involved. With that said, we have found that most house cleanouts in Scranton, PA range from $1,000 to $5,000 to empty the entire house out.
That price includes all the labor, hauling, and disposal fees. We provide free estimates for all of our clean out services. Our company has fair, upfront pricing for estate clean outs.
---
---
Commercial Cleanout Services
A+ Enterprises not only provides residential cleanout services, but commercial cleanouts as well! Whether you have an office junk removal project, a warehouse liquidation, or any other removal need – we have you covered.
Our cleanout service has a 2 million dollar general liability insurance policy. In addition, we have the required worker's compensation insurance through the State of Pennsylvania. We provide all the labor, hauling, and disposal so your employees can stay productive!
Commercial cleanout services include:
Warehouse cleanout
Business junk removal
Commercial junk removal
Warehouse liquidation
Illegal dumping cleanup
Storage unit cleanouts
Computer removal & recycling
Property management junk removal
Office furniture removal
Construction site cleanup
---
---
Why Hire A+ Enterprises Junk Removal in Wilkes Barre/Scranton?
A+ Enterprises is a family-owned, local estate cleanout service. Supporting small businesses instead of franchises helps strengthen our local economy in Northeast Pennsylvania which benefits us all.
We provide free house cleanout estimates for every job. Before removing your items, one of our background-checked junk removal crew members will give you an upfront price for everything you would like removed.
A+ Enterprises Junk Removal & Demolition has been in business for more than 7 years. This means our junk removal company has more experience and resources than newer companies.
We have successfully completed junk removal projects ranging from a single recliner to full-blown hoarding cleanouts. We have more trucks, employees, and equipment than any company in the area. This allows us to work more efficiently – saving you time and money!
How our House & Estate Cleanout Service Works
Simply schedule your house cleanout appointment online, by calling us at 484-658-3333, or filling out the form below. Our friendly, uniformed cleanout service will call you 15-30 minutes before your scheduled 2 hour arrival window.
When we arrive, just point to the items you want removed and we'll provide you with an up-front, all-inclusive price. Once you say the word, we'll haul your goods away from wherever they're located. In addition, we will finish by cleaning up the area. Plus, we recycle and donate your items whenever possible.
Request A Free Cleanout Estimate
Call: 484-658-3333
---
Contacted Sal to have some old boxes removed, called me the next day to set up a time to estimate the work. Came first thing the next morning and gave me a great quote. We agreed on a wonderful price and literally 15 minutes later he was here with his truck cleaning out our boxes. He was done quickly and efficiently! Very nice man, We will be contacting him again in the near future! My family and I highly recommend!

Lakin Parsons


10/17/2020

I would highly recommend this company. Very respectful employees. Worked efficiently, were conscientious and very careful. Fairly priced and made this cleanup of 50 years worth of "things" easy.

Kathleen Doyle


10/10/2020

Can't thank the guy we spoke to enough! He was wonderful to us! We were in a last minute crunch to get rid of stuff and he worked with us and even went way out of his way to accommodate our needs! He truly has great customer support and was beyond generous! Can't thank this awesome company enough! It meant a lot to us!! We highly recommend!

Kaitlyn Szorady


7/11/2020

I never leave reviews but Sal (I think his name is) was great. Both times we used them they showed up the next day on time and did a fast and efficient job. Personable and reliable. Highly recommend.

Carissa Dewey


5/05/2019

Excellent communication starting from the first call through our entire demolition project. Answered the phone and responded to emails and texts promptly. Got the job done quickly and efficiently. Highly recommend A+ Enterprises.

Michelle Pennington


6/10/2020

A+ is a first-rate, highly professional outfit. They offered courteous, efficient, same-day service at a more-than-fair price. I recommend them with great confidence.

Joel Shuman


7/08/2019

Very nice to deal with. Showed up promptly. Worked throughout the entire day. Did a fabulous job! Would highly recommend.

Sandra Hill


6/11/2020

Called for estimate for tv removal, good price came that morning I called, Sal is great, will use again.

Debbie Rumensky


3/15/2020

A+ Enterprise . . .gave an accurate estimate. . .did a PROFESSIONAL job. . .the team was "on-time" completed the work on schedule. . . very easy to work with. . .Highly Recommend!

Wes Coates


1/22/2020

Professional Service and Very Affordable. Fast and Efficient. I highly recommend.

Doug Fedor


8/25/2020

Kyle and Joe were wonderful! Very efficient process. I called and gave brief information to a very professional person. They came out the next day. Wiped their feet, quoted me a very fair price, and removed my furniture. I'm very pleased with their service and friendliness. I will definitely recommend them to my family and friends! Meredith R.

Meredith Rynkiewicz


8/14/2019

EXTREMELY PLEASANT AND PROFESSIONAL! Gave them a call to remove some old furniture and assorted boxes of junk. They said the had a crew in my area the next morning and could be here at 9am. Arrived right at 9 on the dot and got straight to work. They battled through all my cobwebs and work quick and efficiently. No trouble or damage from moving some big items in narrow areas. The price they quoted was great value for all the work they did. I have already and will continue to HIGHLY recommend them.

Michael Machion


8/03/2019

EXTREMELY PLEASANT AND PROFESSIONAL! Gave them a call to remove some old furniture and assorted boxes of junk. They said the had a crew in my area the next morning and could be here at 9am. Arrived right at 9 on the dot and got straight to work. They battled through all my cobwebs and work quick and efficiently. No trouble or damage from moving some big items in narrow areas. The price they quoted was great value for all the work they did. I have already and will continue to HIGHLY recommend them.

Michael Machion


8/03/2019

Professional and courteous. We have sought the services of this company twice now. Each time they were more than accommodating with very reasonable prices. A+ service.

Charles Zaffuto


5/02/2020

Sal really helped us out. We needed some junk removed right away and he got there within a couple of hours, was very professional and polite and did not charge an arm and a leg. He has a customer for life in us now!

Margaret Esopi


12/24/2018
---
---
Cleanout FAQs
What does a house cleanout cost?
The cost to clean out a house or office depends on a variety of factors. Some of these factors are the amount of items to be removed, their location, access to the location, etc. Most house cleanout service prices start at around $1000 and range from there.
What is a cleanout?
A house or office cleanout is the process of clearing out all the items inside a house, typically to prepare it for sale. Some of the items removed are old furniture, discarded household goods, unwanted appliances, and other items that are no longer desired.
Where does your company operate?
Our company offers junk removal & cleanout services to the cities of Scranton, Pennsylvania and Wilkes-Barre, Pennsylvania. We also service all surrounding towns and communities around those cities. A+ Enterprises also travels anywhere in Pennsylvania for large cleanout & demolition projects.
Do you provide industrial/warehouse cleanouts?
We not only clean out offices and houses, but large warehouses and other spaces as well! Regardless of the size or complexity of your cleanout, we can remove your items for you. Our pricing is all-inclusive and factors in all labor, hauling, and disposal fees.
Do you clean out estates?
We understand that dealing with a loved one passing away can be a difficult time. Our estate cleanout services are designed to be as simple and unobtrusive as possible for our customers.
---